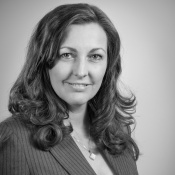 Košíková Petra
| Consumables Group Manager, KODYS, spol. s r.o.
Petra Košíková graduated from the technical school of civil engineering with specialisation in building constructions. Then she was engaged in sales and event management.
She joined KODYS, spol. s r.o. in 2004 as an account manager, in 2005 she became a sales representative in the consumables department. In 2009 she already worked as a business consultant in the field of automatic identification labelling and in 2011 se became the consumables group manager. She has at the same been time working as the manager of IBCS Consumables Working Group since 2005.